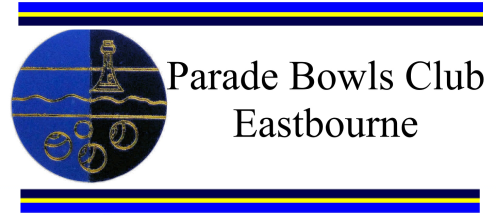 We welcome visiting clubs and individual feedback. Please feel free to email to
eastbourneparadebowlsclub@outlook.com
any comments for addition on our guestbook page
*********************************************************************************************************************
We have received the following E mail

:

Hi Jim




We were very pleased to be able to visit your club again on 21st September and just sorry that you could not make the fixture.


Once again we had a great time with your members. Your friendliness and fun is something that we all look forward to and a weekend at Eastbourne would not be the same if we couldn't play The Parade.

I'm delighted to hear that your McMillan day did well and we are pleased and proud to have been a part of it.

Sadly we won't be back in 2020 as our players have asked for a different venue to make a change after 3 years at Eastbourne but I can assure you that 'We'll be Back!' in the not too distant future.


My thanks to all of your members that made our day so memorable and our best wishes for the 2020 season.


Kind regards

Andrew Tiffin

President

Haydon Wick Bowls Club

Received 27th September







We received the following letter :
Alan Sully, Tournament Representative, Parade BC.

Dear Alan,

90th Eastbourne Open Bowls Tournament.

Can you please pass to the Club Committee my thanks for the effort put in to making this years event such a success.

Particular thanks go to the catering / bar teams and those responsible for setting out the greens.

There are of course many others - markers - umpires etc and others behind the scenes too numerous to mention- without whose freely given time the Eastbourne Open could not run.

There was a universally positive response from the competitors regarding use of your club.

I hope it was a positive experience from the club's point of view, that you enjoyed hosting the event and will consider continuing to do so in the future.
I am please to confirm the continuing sponsorship of the Tournament by Wendy and Neil Kirby ( Langham Hotel ) and to report that the event will continue to thrive.
The Tournament AGM takes place at Eastbourne BC on Monday September 9th at 7.00pm when determination of the HQ for 2021 and the provisional availability of greens for 2020 and 2021 year will need to be determined.

With sincere thanks for your assistance on the running of the Tournament.

Yours, Mike Taylor.
Hello Jim.
Just wanted to say how much we all enjoyed Saturday afternoon at your club. The weather was superb and was only surpassed by the warmth and friendliness of the welcome we received.
We took your advice and gate-crashed your club on Friday night as well! I did feel a bit sorry for your members, who had obviously turned up for a quiet game of cards, only to be invaded by about 25 of us making a lot of noise. Hopefully we did not upset anyone too much!
I hope we will be able to join you again sometime in the not too distant future.
Many thanks, once again,
John Holdaway, Treasurer, Bicester Bowls Club ( Received 26/6/2019)

Dear Jim,
What an enjoyable afternoon we spent with you on Sunday. Please pass on our thanks to everyone for their hospitality.
Kind regards,Heather Walker,Tour Organiser
Victory Park Bowling Club,Stroud, Glos. ( Tourists 30th April 2017)


To all members of Parade Bowls Club.
22nd June 2017.
On behalf of Anne Summers and myself, I would like to say a big thank you to the ladies for looking after us so well on the times we have been at The Parade Bowls Club during the competitions.
You have fed and watered us and the players, which is not an easy when numbers are not the same from day to day, and made a good job of it.
How lucky you are to have helpers who can cook as well. We will definitely be back next year.
I would like to give a big thank you to Jim Stewart and his helpers for organising the rinks each day. It is not easy when numbers change all the time.
Also thanks to all other members of The Parade BC for helping us out whenever help was needed.
2017 has been a very difficult year for us but your help softened the blow.
My thanks to you all.
Valerie Butler,
Competitions Secretary.
© Copyright The Parade Bowling Club 2022