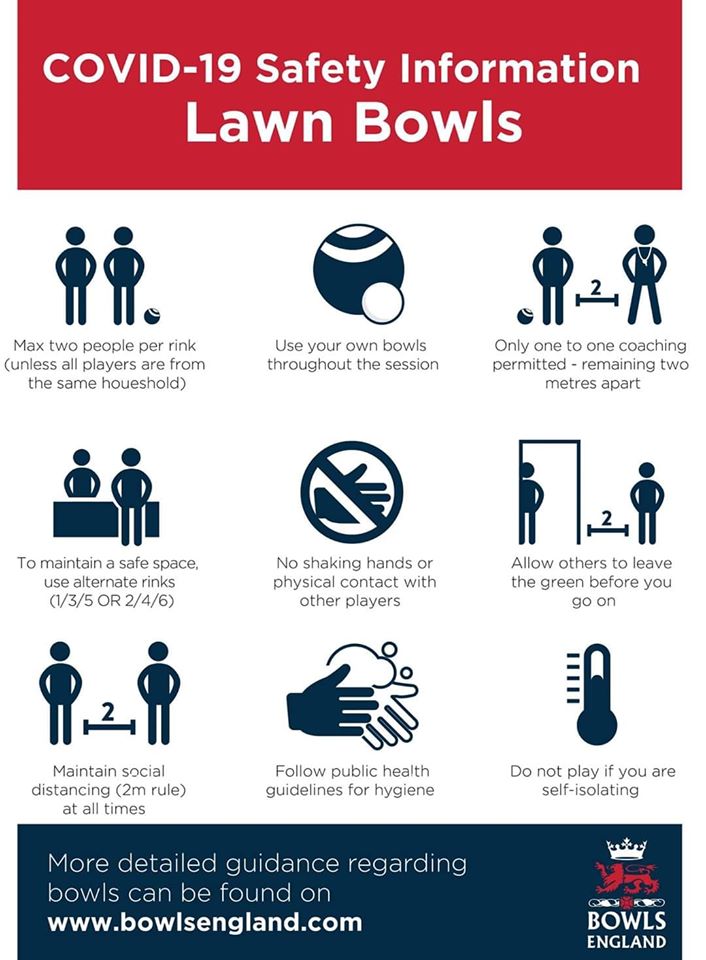 Booking Guidelines Update 7th July.

Players wishing to book rinks for Competitions may book more than 7 days in advance. Competition matches will take priority over roll up sessions.

BOOKING * Updated 9th June *
From Monday 15th June we will be able to play Singles and Pairs on 3 rinks. Three sessions a day, 10.00am-11.30am, 12.00 noon -1.30pm, 2.00pm-3.30pm. All sessions must be booked at the latest by 5.00pm the previous day . There will be NO "turning up to play" No bookings can be made more than 7 days in advance.
Please do not turn up more than 10 minutes before your booked session. The clubhouse will NOT be open, except for the use of the toilet in an emergency, when only ONE person at a time will be allowed in. Changing shoes must be done outside.
If your bowls etc are in the clubhouse, you will be allowed in to get them, but then taken home. If you do go into the clubhouse, you must sanitise your hands on entry and exit.
Booking to be done by phone to either Jim Stewart 01323 651660 - 07890 708035 or Peter Hensman 01323 725074 - 07966 252153 specifying whether its a Singles or Pairs booking
Bookings will be open from May 31st.
PLAYING
The greens will be laid up with 2 mats and 2 jacks. One player must be nominated to lay the mats and set the jacks for each end. There will be NO pushers, scoreboards, ditch markers or 2 meter poles. At the end of each sessions, mats and jacks to be left at each end for green steward to sanitise before next session
*******************************************************************************************************************************************

Sun 26th





Mon 27th

Tue 28th

Weds 29th

Thurs 30th

Fri 31st

Sat 1st August

10-11.30

R1 Drawn Pairs

R1

R1 Peter Hensman


R1 Roger Cavie Coaching


R1 Alan Street COMP


R1 Julia Savin


R1 Chris Frodsham


R2 Drawn Pairs

R2 Jim Frodsham COMP


R2 Ron Bonson


R2 Chris Frodsham COMP


R2 John Phillips COMP


R2 Chris Frodsham COMP


R2 Rose Wattis COMP


R3 Drawn Pairs

R3

R3 Phil Weston


R3

R3 Ron Bonson


R3 Jean Denyer


R3 Brian Hopkins


R4 Drawn Pairs

R4

R4 Terry Baldwin


R4 Tony Waters COMP


R4

R4 Kay Loveland


R4 Julia Savin COMP


R5 Drawn Pairs

R5

R5 Elaine Savins


R5

R5 Julia Savin


R5

R5

R6 Drawn Pairs

R6

R6

R6 Gill Pearson


R6

R6 John Phillips


R6

R7 Tony Waters COMP




















12-1.30

R1 Drawn Pairs

R1

R1

R1

R1

R1

R1

R2 Drawn Pairs

R2


R2

R2

R2

R2

R2

R3

R3

R3

R3

R3

R3

R3

R4

R4 Alan Sully


R4

R4

R4

R4

R4

R5

R5

R5

R5

R5

R5

R5

R6

R6

R6

R6

R6

R6

R6







2.00-3.30

R1


R1

R1

R1 Drawn Pairs

R1

R1

R1

R2

R2 Julia Savin COMP

R2

R2 Drawn Pairs

R2

R2

R2

R3

R3

R3

R3 Drawn Pairs

R3

R3

R3

R4

R4

R4

R4 Drawn Pairs

R4

R4

R4

R5

R5

R5

R5 Drawn Pairs

R5

R5

R5

R6

R6

R6

R6 Drawn Pairs

R6

R6

R6
*********************************************************************************************************************************************
Sun 2nd





Mon 3rd


Tue 4th


Weds 5th


Thurs 6th


Fri 7th


Sat 8th


10-11.30

R7 Drawn Pairs

R7 Alan Sully


R7 Kay Loveland COMP


R7 Tom Spencer


R7 John Phillips COMP


R7

R7 John Phillips


R8 Drawn Pairs

R8 Elaine Savins

R8 Jonathan Morris COMP


R8 Brian Knight


R8

R8

R8 Kay Loveland COMP


R9 Drawn Pairs

R9 Tony Wattis COMP


R9 Terry Baldwin COMP


R9 Antonio Forte


R9 Ron Bonson


R9

R9


R10 Drawn Pairs

R10 Brian Knight


R10 Roger Cavie COMP


R10 Roger Denyer COMP


R10

R10

R10

R11 Drawn Pairs

R11 Roger Cavie Coaching


R11 June Ivins


R11 Gill Pearson


R11 Leslie Weller


R11

R11

R12 Drawn Pairs

R12 Terry Baldwin


R12 Phil Weston


R12


R12

R12 Julia Savin


R12
















12-1.30

R7 Drawn Pairs

R7 Roger Denyer COMP


R7

R7

R7

R7

R7

R8 Drawn Pairs

R8


R8

R8

R8

R8

R8 Antonio Forte COMP


R9

R9 Jim Frodsham COMP


R9

R9

R9

R9

R9

R10

R10

R10

R10

R10

R10

R10

R11

R11

R11

R11

R11

R11

R11

R12

R12

R12

R12

R12

R12

R12
















2.00-3.30

R7

R7

R7

R7 Drawn Pairs

R7

R7

R7

R8

R8

R8

R8 Drawn Pairs

R8

R8

R8

R9

R9

R9

R9 Drawn Pairs

R9

R9

R9

R10

R10

R10

R10 Drawn Pairs

R10

R10

R10

R11

R11

R11

R11 Drawn Pairs

R11

R11

R11

R12


R12

R12

R12 Drawn Pairs

R12

R12

R12
***************************************************************************************************************************************

Sun 9th


Mon 10th


Tue 11th


Weds 12th


Thurs 13th


Fri 14th


Sat 15th

10-11.30

R1 Drawn Pairs

R1

R1

R1

R1

R1

R1 Julia Savin COMP


R2 Drawn Pairs

R2

R2

R2

R2

R2

R2

R3 Drawn Pairs

R3

R3 John Phillips


R3

R3

R3

R3

R4 Drawn Pairs

R4


R4

R4 Tony Waters COMP


R4

R4

R4

R5 Drawn Pairs

R5

R5

R5

R5 Rose Wattis COMP


R5

R5

R6 Drawn Pairs

R6

R6

R6

R6

R6

R6






















12-1.30

R1 Tony Waters COMP


R1

R1

R1

R1

R1

R1

R2

R2 Mike Woods COMP


R2

R2

R2

R2

R2

R3

R3

R3

R3

R3

R3

R3

R4

R4 Kay Loveland COMP

R4

R4

R4

R4

R4

R5

R5

R5

R5

R5

R5

R5

R6

R6

R6

R6

R6

R6

R6













2.00-3.30

R1


R1

R1

R1 Hailsham COVID Triples


R1

R1

R1

R2

R2

R2

R2

R2

R2

R2

R3

R3

R3

R3 Hailsham COVID Triples

R3

R3

R3

R4

R4

R4

R4 Hailsham COVID Triples

R4

R4

R4

R5

R5

R5

R5

R5

R5

R5

R6

R6

R6

R6 Hailsham COVID Triples

R6

R6

R6
*************************************************************************************************************************************

Sun 16th





Mon 17th


Tue 18th


Weds 19th


Thurs 20th


Fri 21st


Sat 22nd


10-11.30

R7 Drawn Pairs


R7

R7

R7

R7

R7

R7

R8 Drawn Pairs

R8

R8

R8

R8

R8

R8

R9 Drawn Pairs

R9

R9

R9

R9

R9

R9

R10 Drawn Pairs

R10

R10

R10

R10

R10

R10

R11 Drawn Pairs

R11

R11

R11

R11

R11

R11

R12 Drawn Pairs

R12

R12

R12

R12

R12

R12



















12-1.30

R7 Closed


R7

R7

R7

R7

R7

R7

R8 Closed


R8

R8

R8

R8

R8

R8

R9 Closed

R9

R9

R9

R9

R9

R9

R10 Closed


R10

R10

R10

R10

R10

R10

R11 Closed


R11

R11

R11

R11

R11

R11

R12 Closed


R12

R12

R12

R12

R12

R12

All Greens closed for maintenace, NO BOOKINGS.







2.00-3.30

R7 Closed

R7

R7 Gildredge COVID Triples


R7 Drawn Pairs

R7

R7

R7

R8 Closed

R8

R8 Gildredge COVID Triples

R8 Drawn Pairs

R8

R8

R8

R9 Closed

R9

R9 Gildredge COVID Triples

R9 Drawn Pairs

R9

R9

R9

R10 Closed

R10

R10 Gildredge COVID Triples

R10 Drawn Pairs

R10

R10

R10

R11 Closed

R11

R11 Gildredge COVID Triples

R11 Drawn Pairs

R11

R11

R11

R12 Closed

R12

R12 Gildredge COVID Triples

R12 Drawn Pairs

R12

R12

R12
***********************************************************************************************************************************